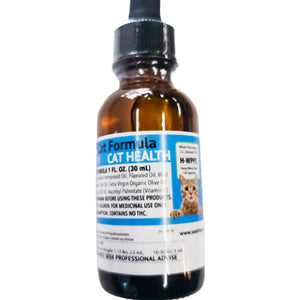 indiMEOW Liquid CBD Drops for Cats
What's Inside? 
indiMEOW Liquid CBD Drops with Chicken Treats for Cats is a specially formulated product that provides a range of health benefits for cats. The 1 ounce (30ml) bottle of CBD-infused omega-3 rich fish oil base provides 100mg of CBD per container, while the 1.8 ounce (50g) bag of freeze-dried chicken treats contains 50mg of CBD. This product is specifically designed for cats and is made with biologically appropriate ingredients that support digestion, joint health, anxiety relief, healthy skin and coat, and overall well-being. The product contains no THC, ensuring that it is safe and legal for cats to consume.
Ingredients:
Base-Oil: Anchovy Fish Oil, Extra Virgin Organic Olive Oil 
Other Ingredients: Hemp CBD Oil, Ascorbyl Palmitate (Vitamin C)
CONTAINS NO THC.