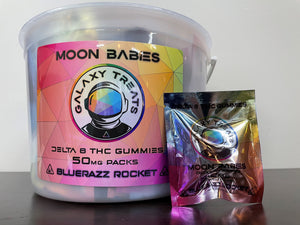 Moon Babies Delta 8 THC Gummies
Moonbabies Delta 8 THC Gummies are a delicious and convenient way to consume cannabis for medicinal purposes. These gummies are an excellent option for people who are always on the go and need a discreet way to medicate. With their potent formulation of Delta 8 THC, they are highly effective at relieving a wide range of symptoms such as pain, anxiety, nausea, insomnia, digestion issues, irritability, OCD, spectrum disorders, and more.
Each pack contains two gummies, each with 25mg of Delta 8 THC, which makes it easy to control the dosage. The BlueRazz flavor of the gummies adds to the pleasant experience, making it a tasty treat that also provides relief. Overall, Moonbabies Delta 8 THC Gummies are an excellent choice for those seeking a quick and delicious way to alleviate various symptoms.