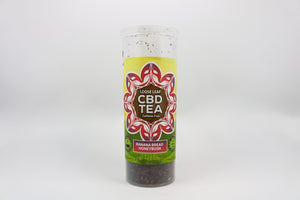 One Love Tea CBD Banana Bread Honeybush satisfies your craving for a sweet baked treat with notes of banana and warming cinnamon. Caffeine Free!
One Love Tea CBD teas are packaged in pop-top containers to preserve freshness.  Each container is filled with 2 ounces, measured in dry weight, of your selected tea blend and then sealed to further ensure your tea arrives fresh every time.
2 oz Banana Bread CBD contains approximately up to 150 mg of CBD and makes approximately 30-36 cups of tea.
Steeping Instructions:
HOT – Scoop 1.5 tsp of tea into your loose leaf tea infuser.  Pour 8 oz of hot water over your tea. Steep for 1 to 3 minutes.  Remove loose tea and enjoy.
ICED – 1.5 tsp of tea for 8 oz of water. Steep for at least 30 minutes, then enjoy.
An Afternoon/Evening Tea: Calming/Tranquility