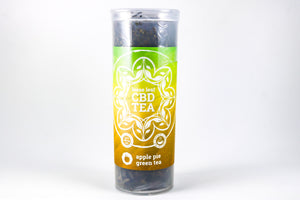 One Love CBD Tea Apple Pie CBD Green Tea is packed with the flavors of crisp apple and lush green tea leaves! This sweet apple green tea is blended with aromatic earth tones of CBD hemp oil contains Sencha green tea, dried apple, apple extract, and CBD hemp oil.
1.5 oz Apple Pie CBD Infused Green Tea contains approximately up to 150 mg of CBD and makes approximately 30-36 cups of tea.
Our CBD teas are package in pop-top containers to preserve freshness.  Each container is filled with 1.5 ounces, measured in dry weight, of your selected tea blend and then sealed to further ensure your tea arrives fresh.
Steeping Instructions
HOT – Scoop 1.5 tsp of tea into your loose leaf tea infuser.  Pour 8 oz of hot water over your tea. Steep for 1 to 3 minutes.  Remove loose tea and enjoy.
ICED – 1.5 tsp of tea for 8 oz of water. Steep for at least 30 minutes, then enjoy.